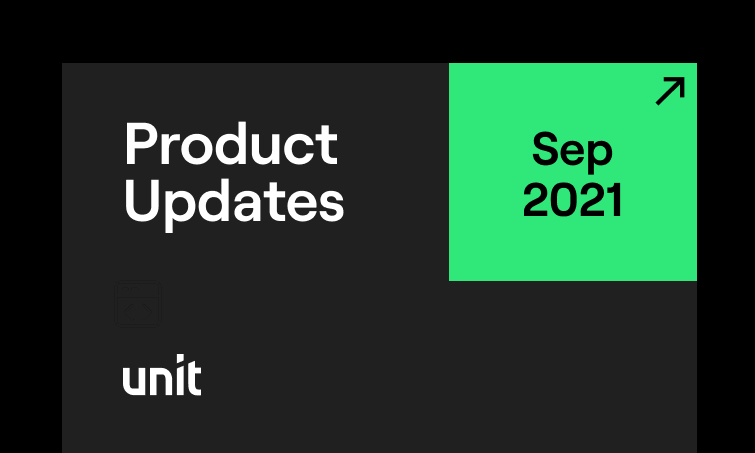 Product Updates: September 2021
September has been another busy month of adding more features and functionality to the Unit platform. This month, we have focused on enhancing the client experience. We improve data accessibility through the Dashboard (payments, disputes and statements), enriched the Statements API, and launched our fresh new docs. In addition, we have delivered the ability to pay bills through Unit's API, so you can enable your customers to make bill payments from your app.
‍Bill Pay: Allow your customers to make payments simply and seamlessly, to a network of over 20,000 billers, by providing their account id and the amount they wish to pay.
‍Spanish Bank Statements: Choose the language you want to display the bank statements.
PDF Bank Statements: Consume or expose the statements in PDF format.
Access Statements from Dashboard: Review customer statements as well as your organization's revenue and reserve account statements from the Unit Dashboard.
Disputes: Review current and historic disputes from the Customer page on the Unit Dashboard.
Payments Page: Review all payments (ACH, Wire, Book Payments, Bill Payments) made by your customers, filter by payment status, and cancel outstanding payments before they are processed.
IP Whitelisting: Restrict access to the Unit API and Dashboard to a certain list of IPs. You may enable and configure this from the Org Settings page on the Unit Dashboard.
Docs: We have updated the look and feel our docs, improving the hierarchy and structure, and upgrading the search capabilities. We will deploy further enhancements to our docs in the coming weeks to make building with Unit easier.
Visit our features page to learn about existing capabilities, and explore our future releases using our public roadmap.
To see how existing customers are building on Unit, visit our customer stories page. To keep up with the most recent company and platform updates, subscribe to our updates.
Ready to bring your own financial features to life? Sign up for sandbox or request a demo.